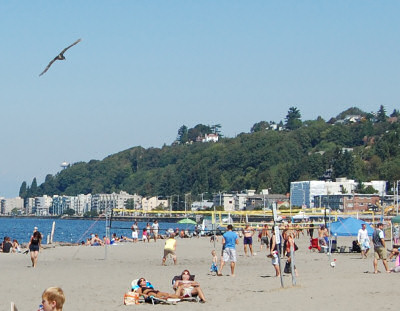 Volleyball Nets
Ultimate Buying Guide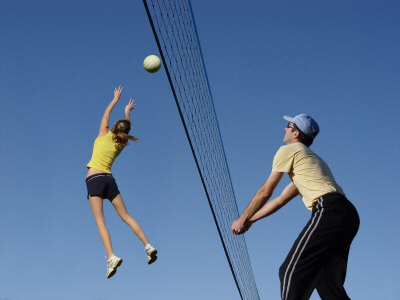 A volleyball net is a great item to purchase. It's an affordable item that provides you, your family and your friends with hours of endless fun. It can be stored easily, taken on trips and used in your own backyard. But how exactly do you go about choosing a volleyball net? We'll tell you … Here is a guide to all of the factors that you should consider when choosing a volleyball net from where you're going to use it to how much you want to pay for it.

Indoor vs. Outdoor Volleyball Nets
The very first thing that you need to decide, and the easiest part of your decision-making process, is whether you need an indoor volleyball net or one that belong outdoors. Both types are available for purchase. Nearly all consumers are looking for traditional outdoor volleyball nets but a few lucky people have spaces where they'll be able to play indoors.

Net Only vs. Complete Volleyball Net System
Next you will want to determine whether you need only the volleyball net or the entire net system. This depends on where you are planning to use your volleyball net. If you are only going to take it to use at the local park or beach and this place already has the poles in place to hold a net then you need the net only. If you are going to play at home (or at a beach that doesn't have the necessary equipment) then you will need to get a complete volleyball net system. This should probably include a boundary system so that you know when you're going out of bounds (although if you're playing at a local park with an established court then this isn't necessary).

In-Ground vs. Portable Volleyball Net Systems
If you are buying a complete volleyball net system then you will need to choose whether you want an in-ground system or a portable system. An in-ground system is designed to be a long-lasting addition to your yard. It typically goes into your lawn or sandy backyard and is not intended to be removed often. Conversely, a portable volleyball net system can go with you wherever you might want to play. Notably you can also choose between in-ground and portable nets for indoor use; the former is for professional indoor players and the latter for people who have access to local indoor courts.

Size
There are a number of different sizes available for volleyball nets. Most consumers choose to get a regulation size net. The product information on the volleyball net box or website will tell you that it's regulation size. This is what you would need if you were setting up your volleyball net using an in-place net system like the one at your local park. However some people choose to get nets that are another size. For example, families with small children may choose to get a net that has a lower height so that the kids can play more easily.

Weight
If you are going to be taking your volleyball net with you to parks or on vacation then it's worth it to take the time to look at the weight of your entire net system. The materials and design of your volleyball net can cause it to vary in weight from other volleyball nets. You want to choose a lightweight volleyball net that is easy to carry around.

Ease-of-Use
Another important factor to consider if you're going to be putting up and taking down your volleyball net in various locations is how easy it will be to do this. There are some volleyball net systems that are designed to be super simple; just pop them up and go. Others are a bit more complex. It's worth it to invest in a volleyball net that is super easy to set up and take apart. You'll be glad for the time and hassle this saves you when you're ready to play.

Other Features
Now that you've made all of the basic decisions about the type of volleyball net you need you can go ahead and start looking at the fun stuff. There are lots of little features that make one volleyball net different from another. For example, one might allow you to adjust the tension of the net. Another might come with poles that allow for height adjustments of the net. Some even come with fancy features like on-net scorekeeping systems. You also want to look at the materials that you need; for example, some materials are better-suited than others for volleyball play in or around a pool. This is also the time to start looking at little things like the color of the net that you want. Shop around and find the features that seem most interesting to you.

Make Sure You're Buying for the Right Skill Level
Be aware of the fact that different types of volleyball nets are made for different skill levels. There are volleyball nets made for competitive or professional players and then there are nets made for recreational players. Before you buy your volleyball net, check to confirm that it's for the skill level that you will need. This information should be included in the product information. If a net is designed for a professional player it almost always says so in the name/description of the product. If it's for competitive play then it will let you know that it meets the standards of the level of competition you're playing at. Most people will be buying recreational nets so just keep an eye out for that information.

Brand Name
There are some people who swear that you need to buy a brand name when you are buying sporting goods. Other people think it's fine to buy a brand they've never heard of before as long as the product looks like it's going to work for them. What type of a shopper are you? You might want to consider this before finalizing your volleyball net purchase.

Cost
All of the other factors that you have already taken into consideration are going to give you a basic price range for your volleyball net. A single volleyball net will, of course, be cheaper than a whole net system. A lightweight, easy-to-use modern volleyball net system will be more expensive than a heavy, short-lasting one. However, once you have your basic product picked out, you should do some comparison shopping to see what the best price is within the price range that you're now searching in. Look for deals and discounts. Cut back on some of those bonus features if you can't afford the item that you've picked out. There are volleyball nets for every budget.

Accessories
Once you have purchased your volleyball net you should ask yourself if there are any additional items that you would like to purchase to go along with your volleyball net. If your set doesn't come with a volleyball then you'll definitely need one of those. You will probably also want to get a volleyball pump. You may also want to get a carrying case if you're choosing a portable volleyball net. Make sure that you get everything you need.